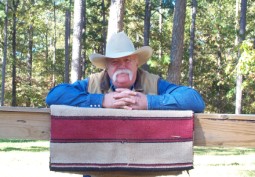 What others say about 'SA WALLS STIRRUPS'...
Kassidy Jones of College Station, Texas, won a pair of 'WALLS STIRRUPS' (youth size) with the rubber pad attached at an American Novice Horse Association barrel race in April 1998. In July, she and Invisible Touch, her horse of five years, won the American Quarter Horse Youth Association World Champion Barrel Racer title at the age of 9. "She swears that if it wasn't for those stirrups, she wouldn't have won the world," says Kassidy's mother, Amber Jones. "She really loves them now and I even wanted to order her another pair. She was so excited that she asked me to write him (Walls) a letter thanking him."
Dale Youree, a barrel horse trainer in Addington, Oklahoma, was given a pair of the 2-inch stirrups with his initials on them. They hung in the barn for awhile until the friend that had given them to Youree saw that he wasn't using them. "I liked the stirrups I was riding in, but he asked me to try them," says Youree, adding that he finally gave in and is glad he did. "They are real pretty and light, and my feet stay in them real well."
Other members of the industry using 'SA WALLS STIRRUPS' include, Kim Landry of Starke, Florida, who has 15 pairs; Carol Goostree of Verden, Oklahoma, and Kay Blandford of Sutherland Springs, Texas. Carol Goostree states, "A friend of ours, Charles Brock (of Talahina, Oklahoma) was using a pair," the 1979 Women's Professional Rodeo Association World Champion Barrel Racer. "I asked him about them and he said he really liked them, so I ordered a pair, too. They are very comfortable and good looking, and you don't lose them as easily." Goostree now owns three pair, and uses them in competition and at home.
"I feel like I don't need rubber bands," says Blandford, who saw a pair at Western Tack in Canton, Texas, and decided to order a pair for herself. "I run on the balls of my feet and the stirrups help me keep my balance."
In 1997, Mike Mowery won the National Cutting Horse Association Futurity riding a pair of WALLS' STIRRUPS.
WALLS STIRRUPS are also endorsed by Champion Barrel Racer Martha Josey and used by, Sharon Camarillo, and Kristie Peterson.
WALLS STIRRUPS are recognized in various catalogs, numerous web sites and on saddles across the country.